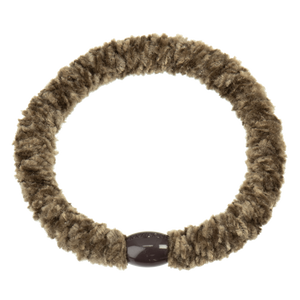 Knekki Velvet Hair Tie by Bon Dep!

An amazing velvet hair-elastic in a beautiful colour that can be worn as an addition to your looks! The plastic bead and braiding ensure that it doesn't damage the hair, as well as it keeps the hair in shape! 

Except for looking good in the hair, it can also be worn as a wrist bracelet! Match all of your favourite colours together. 
The original Kknekki is recognized to be one of the best hair ties in the world. The unique weaving technique makes them extreme gentle to any kind of hair and they won't fade, fray or slacken, even when worn in saltwater. They're also allergic-friendly. The unique craft and weaving technique with more than 60 threads has given us the almost infinite colour and combination options.
Colour: Moss