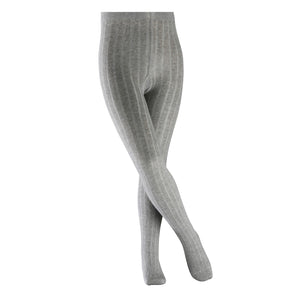 These children's tights with a timeless ribbed finish are made of skin-kind, easy-care cotton, making them suitable for almost every occasion. The perfect FALKE fit guarantees supreme comfort. What's more, reinforced stress zones provide optimum durability.
Details:

- Cotton that caresses the skin
- Soft cuffs for a comfortable fit
- Timeless look thanks to the ribbed structure
- Optimal durability thanks to reinforced stress zones
- FALKE perfect fit
Composition: 77% Cotton, 21% Polyamide, 2% Elastane
Colour: 3400
When you place an order with hoplikeabunny.co.uk, we carefully wrap each item in tissue paper and pack them into a courier's bag. We do our best to make sure that everything reaches you in perfect condition.
We will dispatch your order within 24 hours subject to stock availability and payment.
If an item is out of stock, we will say so on the product description. If you order an out-of-stock item, we will contact you immediately to ask if you want to wait or have the payment refunded.
Some furniture items have to be ordered specially for customers and can take up to 8 weeks for delivery. In these circumstances, a second delivery charge will apply.


UK Deliveries:
UK deliveries, including those to the Channel Islands, Isle of Man and the British Forces Post Office, will be sent by Royal Mail.
You can choose the delivery speed that suits you best:
| | | |
| --- | --- | --- |
| UK Standard Delivery | 3-4 Working Days | £5 |
| UK Next Day Delivery* | Next Day by 3PM | £10 |
| UK Pick Up in Store | 2-3 Working Days | Free |
| Furniture Delivery | Email For Quote | - |
*Order must be placed by noon the day before
Delivery charges for furniture and large items weighing over 5kg will be quoted for on an individual basis according to their size, weight and destination.


Overseas Deliveries:
Overseas deliveries will be sent by First Class Airsure Postage.
You will receive your package within:
| | | |
| --- | --- | --- |
| Europe | 5-10 Working Days | £10 |
| USA and Canada | 5-14 Working Days | £15 |
| Rest of the World | 5-21 Working Days | £20 |
Furniture and other large items cannot be shipped internationally at the moment. We hope to offer this service in the future.


Please ensure that you supply your full name and correct delivery address (including postal code and country of destination). Unfortunately, we cannot be liable for orders that do not arrive at their destination due to incorrect delivery information being provided at checkout.
In the unlikely event of your order not arriving at its destination in spite of correct delivery information being provided at checkout (within 10 days for UK deliveries and 30 days for overseas deliveries), please contact us in writing at info@hoplikeabunny.co.uk.
For any questions, please don't hesitate to contact us:
Telephone: 020 7221 6116
Email: info@hoplikeabunny.co.uk